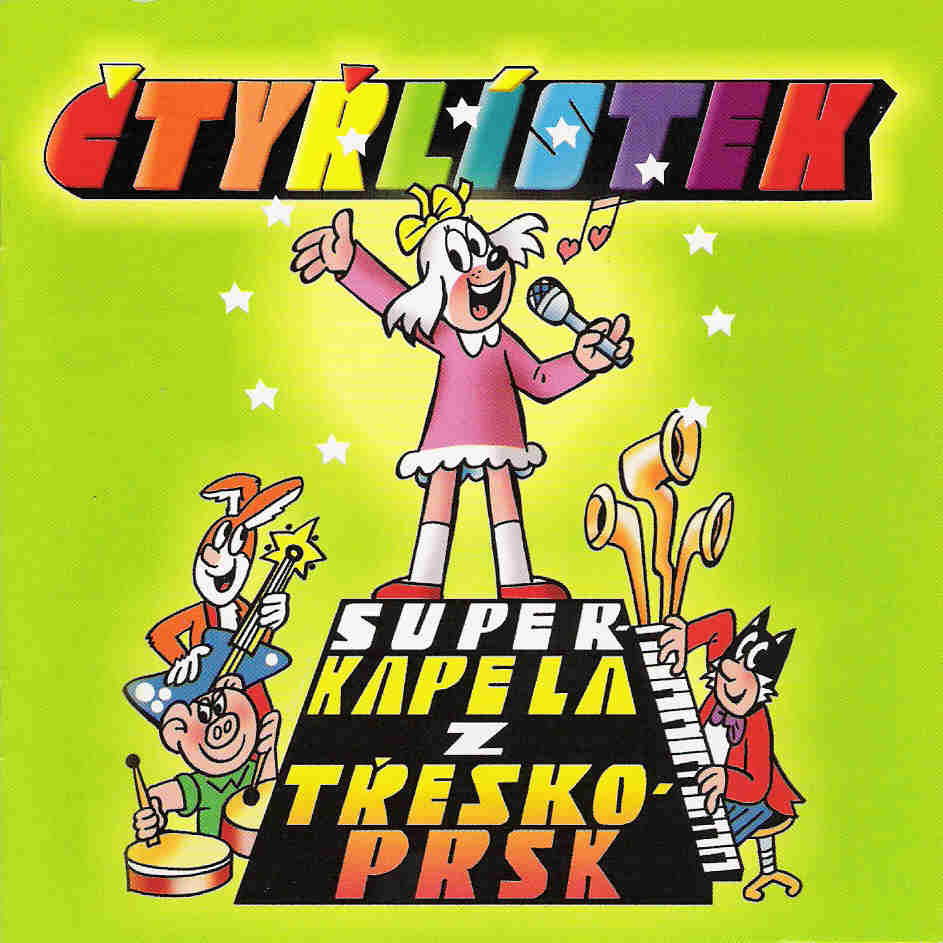 Ctyrlistek in Czech is not only a four-leaf clover but also an ultra-famous children comic magazine. Just the glance on this image above puts me right back into my childhood, when I would read each issue over and over until I had each line memorized. The magazine was named Ctyrlistek after its 4 main characters: the smart cat Myspulin, the pretty doggie Fifinka, the happy-go-lucky Bobik and the cheeky rabbit Pinda. They live in a house together, experiencing different kinds of adventures, fighting for righteousness and protecting the weak. It is also important to mention that they  love goulash and 'buchty'  (sweet bread)!
While comics have always been very common in the Western world, the socialists dismissed them as a "capitalist trash". The only comics that survived the 1970s and 1980 were children comics as they had an educative character and were supposed to enhance childern's interest in technology and sciences (to develop the nuke later in their life, I guess). When the borders opened in 1968 the Ctyrlistek's creator, Marin Nemecek, went on vacation to the Western Europe. "Looking around the shops I noticed something that was completely absent on our market – colorful comic books. So I thought for a while  that we could somehow import them to our country. But then it occurred to me, why should I try to import something  when I can write and draw my own things."

The first published issues took on a great success and kids wanted more of it. However, political censorship was very strong: Ctyrlistek was allowed to be published only 9 times a year; the Ministry of Culture made a few attempts to discontinue the magazine, but even the  children of the members of the communist party loved these comics and that's how it survived.
The authors (Nemecek and Stiplova) say Ctyrlistek is unique from any of its western competitors in one way: there is strictly no violence, no blood is shed and no mischief is being done even to the enemies. After 40 years of existence it is still  a number 1 magazine for the Czech children (and sometimes also the parents).
If you live abroad and would like to have Ctyrslistek shipped to you email Psotova@mediaservis.cz
CZ: Kdo by neznal ctverici kamaradu ze Ctyrlistku, Bobika, Pindu, Myspulina a Fifinku? Jediny pohled na jeden z techto magazinu me okamzite vrati do meho detsvi, kdy jsem Ctyrlistek naprosto hltala a kazde cislo jsem precetla nejmene desetkrat. Tento patek oslavil Ctyrslistek sve 40. narozeniny a nadale zastava prvni misto nejpopularnejsiho magazinu pro ceske deti.

Socialisticke Ceskoslovensko neoslavovalo komiksy jako to bylo na Zapade, spise naopak; komuniste je povazovaly za 'kapitalisticky odpad'. Ctyrlistek to tedy ze zacatku nemel vubec lehke. Komunisticka strana dovolila pouze 9 cisel rocne a take casto nebylo dostatek papiru na tisknuti. Presto se ale komiksu diky jeho obrovske popularite vedlo dobre. Jednotlive vytisky se vymnenovaly za zvykacky, cecka nebo digitalni hodinky.
Vynalezcem ctyrlistku je samozrejme Jaroslav Nemecek (a pozdeji take Ljuba Stiplova). "V roce 1968 jsem se dostal poprve za hranice a byl jsem sokovany, jak barevne jsou tam casopisy. Vratil jsem se posedly myslenkou to take zkusit". Oba autori jsou hrdi na to ze oproti jinym kompetitorum jejich magazin, ac velmi popularni, nezverejnuje zadne nasili, krev nebo zlou odplatu nepratelim.
Jestlize zijete v cizine a radi byste si Ctyrlistek objednali, napiste email na Psotova@mediaservis.cz
Source:
http://magazin.ceskenoviny.cz/zajimavosti/ctyrlistek-bavi-sve-ctenare-uz-ctyri-desitky-let/376668
http://www.radio.cz/en/article/63899
If you liked this post buy me a coffee! (Suggested:$3 a latte $8 for a pound) Thanks!