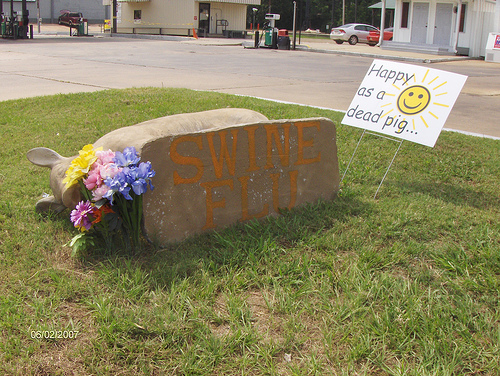 After a short but stressful in-limbo state the Czech Republic is still officially without any recorded case of a swine flu. The three Czechs in question who recently came back from Mexico are thankfully  not infected as the medical test have confirmed. However, more Czech tourists are coming back from their trip to Mexico this Saturday on May 2nd and they will be informed about the swine flu symptoms on the board of the plane itself. If in doubt, they may chose to be examined by a doctor at the Ruzyne airport.
For now the Czechs have enough of the anti-viral medicine for about 2.2 million people which is sufficient for about 20% of the Czech population. The Minister of Health, Daniela Filipova, warned citizens not to buy out all of the protective masks as well as the Tamiflu medicine which, if overused, can cause a resistance of the virus to the other otherwise helpful antiviral agents.
The A/H1N1 virus has killed over 150 people in Mexico. The disease has already spread in the US and some European countries such as Spain and Great Britain.

CZ: Po vysetreni 3 ceskych cestovatelu z Mexika se konecne vi, ze Ceska Republika je stale 'zdrava', tedy bez zadnych nalezenych pripadu praseci chripky. V sobotu 2. kvetna ma ale do Prahy z Mexika priletet nove letadlo s ceskymi turisty a napinani zacne znvou. Jiz v letadle budou turiste informovani, jake jsou priznaky praseci chripky a pokud si nebudou svym stavem jisti, doktor je muze vysetrit primo na letisti.
Ceska Republika ma v zasobe kolem 2,2 milionu davek antivirotik, ktera v pripade pandemie vystaci 20% obyvatel. Ministryne zdravotnictvi Daniela Filipova (ODS) ale varovala obcany, aby nevykoupili vsechny rousky a  take lek Tamiflu. Jestlize totiz budou lide tuto medicinu nadmerne pouzivat, telo si vytvori rezistenci take proti pripravku, ktery by je mohl ochranit proti samotne praseci chripce.
Source: http://www.ceskenoviny.cz/zpravy/tri-cestovatele-z-mexika-praseci-chripku-nemaji/373866?id=373882
If you liked this post buy me a coffee! (Suggested:$3 a latte $8 for a pound) Thanks!