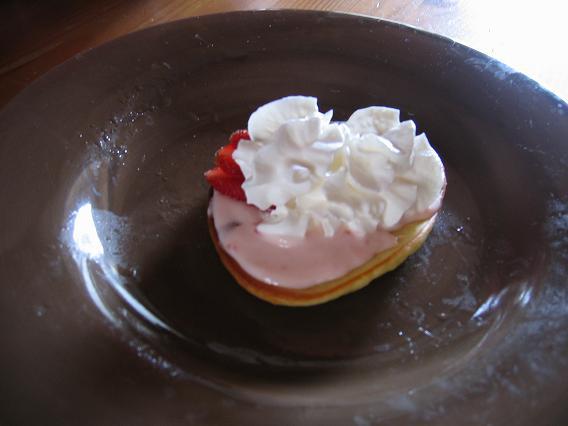 Livance could be described as something in between the French crepes and American pancakes, except livance are not as boring as the American pancakes and not as fufu as crepes – they are just right. For those who are not familiar with them, livance are small, slightly sweetened spongy cakes which are usually served with sweet toppings. Although the recipe itself is very simple you can let your imagination run wild when it comes to these toppings. The traditional decorations are any kind of jam, whipped cream and fruit on top….very Jenny Craig style :0)
Ingredients (makes about 10 livance):
2 cups of sour cream
1 cup of all-purpose flour
3 Tbs sugar
2 Tsp of baking powder
1/4 Tsp of salt
3 eggs
oil for frying
Topping material: strawberry jam, whipped cream, fruit (blueberries, strawberries..); nutella…….anything!
Method:
In a large bowl mix flour and baking powder together
Add in the rest of the ingredients (sour cream, sugar, salt, eggs)
Mix it all together with a wooden spoon until dough forms. The dough should be a little runny but not as runny as a pancake dough.
Heat couple of Tbs of oil in a large pan and wait until oil gets hot
Spoon the livance dough onto the pan using soup ladle (the cakes should be about 5 inches in diameter – see Figure 1 bellow)
Let them fry for about 2-3 minutes on each side, until both sides are golden (see Figure 2 bellow)
Put finished livance on a plate and decorate them with whichever topping/s you desire
Dobrou chut!
If you liked this post buy me a coffee! (Suggested:$3 a latte $8 for a pound) Thanks!