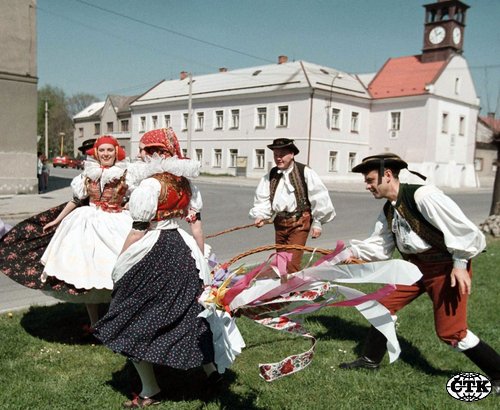 Here is my Easter story. What am I about to say here may be really interesting for those who didn't grow up in Czech or Slovakia (and a "nice" reminder for those who did). The "My Czech Republic" website gives you the cheery and playful version of this tradition but my recollection is not so cheery. Of course, we do the fun stuff like coloring the eggs, baking cakes in a shape of a lamb and sing merry songs. However, as I mentioned in my other posts, Czechs really like their alcohol (they have been no.1 beer-drinking consumers for ages now) and if you mix that with Easter – or any other celebration – things can get pretty crazy.
I can speak with a dose of authority since I have experienced the "wonders" of Czech Easter many, many times. As I mentioned before, when I was a kid my family spent the weekends/holidays at our cottage, located in a little quaint village near Prague. And villages are the places where things get REALLY crazy when holidays – especially Easter – come around.
So what would a traditional Easter Sunday look like? In the morning the girls would be finishing up coloring their eggs and arranging snack on fancy plates, getting ready for the friendly (or maybe not-so-friendly) visitors. The guys would have a hearty breakfast, a shot of vodka instead of an orange juice and they would then go off into the woods to collect the pussy willow twigs and braid them into a whip. When no pussy willows were available they would just equip themselves with whatever was around: shovel? Gardening hoe? The Czech male imagination can run wild with just a minimum dose of vodka. Once armed, they have lunch – or they probably skip lunch – have a couple more vodka shots instead, grab their whips, sometimes even egg baskets, their booze and are off to find anything that had a female resemblance . They would usually start off at the neighbor's house. If you were one of the first houses the mob visited, you were lucky: the guys are still kind of sober, kind of polite and kind of mellow. You let them into the living room – or better – just a hallway, give them some refreshments, offer them more vodka and let them "spank" you. If they still have their egg baskets, you would also stuff couple of eggs in them and if you are lucky they leave afterwards. True, traditionally, you also have a right to douse them with a pot of water as a playful response to their beating, but you really don't want to prolong the whole situation, plus the floor would get all wet and you would spend the rest of the day cleaning it up…..

Now, what happens, when you are one of those last houses being visited? By that time the mob has thinned down to just the "fittest" in the group who still have the ability to walk and talk (or rather slur) some. They are not so polite and meek anymore; they are very loud, very energetic, bordering on aggressive. If you are smart, you just cut to the chase, let them beat you and offer them some more vodka. They will then either pass out on your sofa or – if you are lucky – they will leave to celebrate the end of Easter "festivities" in the local pub. Our cottage was one of the few "lucky" ones, located at the end of the village. That means that most of the time, my mom and I would just leave for a VERY long walk in the woods. Sometimes we would just close down the cottage – blinds and all – to pretend like no one was home. I don't think I will ever forget the stressed out expression on my mom's face when Easter Sunday came around. On that day she would wake me up with something like "Good morning, don't forget, it's Easter today, so pack your things – we are leaving in 20 minutes".
I am just wondering: how did the traditional celebration of Easter change to "Hey, Jesus has risen, let's beat the women!"??
If you liked this post buy me a coffee! (Suggested:$3 a latte $8 for a pound) Thanks!