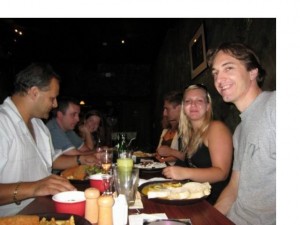 Today is a big day! I am bringing you an interview with what I call the "Perfect CzechoSlovak Group" because they are just great. They come from New York/New Jersey and the organizer Michaela is always  on top of things (for what she was recently awarded bunch of flowers) – organizing Czech/Slovak Movie nights, going to restaurants, cooking Czech/Slovak food at someone's house….you name it! They created a true "extended family", as they like to call it and they are just loving it! I made an interview with them and it is just a joy to read something like that:
CZ: Dnes je velmi vyznamny den! Proc? Protoze vam prinasim rozhovor s mou tzv. "vzorovou Cesko/Slovenskou skupinkou" z New Yorku. Jejich organizator Michaela nikdy neleni (take za to nedavno dostala od svych "zacku" krasnou kytici) a kazdy mesic neco krajanskeho se skupinou naplanuje: bud se divaji na ceske filmy, nebo se sejdou v restauraci na pokec, nebo vari ceska/slovenska jidla…Nejdulezitejsi je ale to, ze dosahli to nejdulezitejsi – citi se totiz jako ze ted nekam patri, a ze tady za tou velkou louzi nasli novou rodinu. Rozhovor s touto skupinou me zahral u srdicka:
1. How did your group start and how many members do you now have?
I started to look for Czechs and Slovaks around my neighborhood in May 2008. I have just come back from visiting my family in Slovakia and I felt really homesick. I wanted to find people like me – people that have been living in the US for a while and wanted to hang out and talk in our mother language 🙂 I started doing an Internet search and found some yahoo groups, msn groups and Meetup groups. I wrote about 15+ people and some of them replied back and we had our first "date" in a restaurant in New Jersey. The first meeting consisted of 8 people now there are more then 20 of us!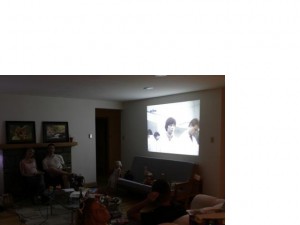 2. How often do you get together and what do you do?
We had a really good time at the first get-together (especially when the people around us couldn't understand a word – that made us feel REALLY important) and decided to meet once a month. In July we met in a local Slovakian restaurant and more people showed up. Next month we met at Filip's house and we had the so-called "Game/Movie/Svickova/Palacinky night 🙂 Filip made Svickova, I made Palacinky (Crepes), Lenka made Babovka (cake), Ana made Makovy kolac (Poppyseed cake) and I made Fasirky and Polenta. Then the biggest thunder storm of that summer started and we got all comfy, played games (Clovece nezlob se) and watched Czech movies. We felt like home, we felt like a family.
3. How many Czechs and Slovaks do you guys have? Do you still understand each other? 🙂
There are 13 Slovaks and 9 Czechs but not all of them can come to every meeting. Some work during the weekends and some have small kids so it is harder for them to come. But they still call and say hi or we communicate through e-mail or through SlovakInfo.com.
We understand each other wonderfully! Slovaks learn new words such as the names of the months ("Leden, Unor, Brezen.." instead of the Slovak version of "Januar, Febuar..."). We also know now that "Zemiaky" are "Brambory" and that "babatko" is "miminko" and so on 🙂
4. What do you like about this group the best?
Person A: That even though we are so far away from our homes I can still rely on this group – my "extended family" here in the US.
Person B: I feel like I belong somewhere; even though we are of different ages and sometimes have different views on things, we still get along great. It's probably because we are trying to concentrate on the things that we have in common, not what separates us. Every one of us is willing to give than to just receive….
Person C: The best thing about this group is that I feel like at home. I feel like a one big happy family with everyone – the feeling is priceless!
5. Anything else you wanted to ad to the interview??
We created a new Yahoo group website! The address is: http://groups.yahoo.com/group/CeskoslovenskyKlub/ and our personal website created by Filip is right here: http://owlprinting.com/cs/ceskoslovenskyklub.html so come and check us out!

We wish you the best of luck!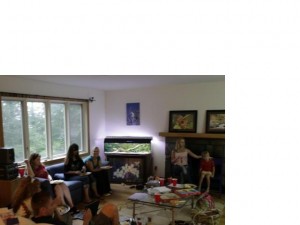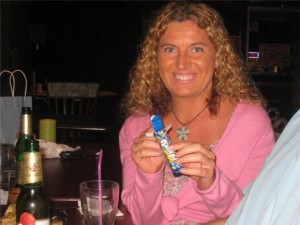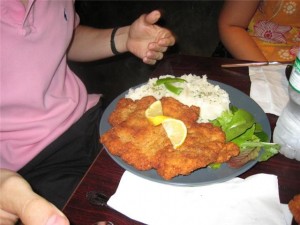 —————————————————————————————————————————————————————
1. Jak vase skupinka zacala, kolik je tam nyni clenu?
A: Zacala som hladat Cechov a Slovakov co su v USA podobne ako ja v Maji, 2008. Dovod, lebo som prave prisla zo Slovenska a velmi som bola 'homesick' za domovom. Chcela som najst takych ludi co su tu podobne ako ja, trochu uz dlhsie a ktori by mali zaujem si pokecat v rodnom jazuku a sem tam sa aj stretnut.
Pozerala som na tieto webstranky: yahoo groups, msn groups a czech meetup. Napisala som emaily asi 15+ ludom a par sa mi ozvalo. Odvtedy sme sa par stretli a potom v juni sme sa dohodli ze sa par z nas stretneme v restauracii v NJ.
Bolo nas tam vtedy 8. Teraz je nas asi 20+
2. Jak casto se schazite? A co delate?
A: Potom sme sa dohodli ze to bolo super (hlavne ked vsetci okolo nas pozerali ze rozpravame divnym jazykom haha…) a ze by sme sa mohli stretavat aspon raz za mesiac v C-S restauraciach. Tak sme sa stretli v juli v slovenskej restauracii v NJ, kde nas bolo zase o trochu viac a potom aj v auguste.
V auguste sme aj zorganizovali 'ackiu'

hry/filmy/svickova/palacinky

u Filipa (lebo on mal vacsi dom). Tam kazdy nieco priniesol – Filip urobil svickovu a palacinky, Lenka babovku, Ana makovy kolac a ja fasirky a polentu 🙂 Radim priniesol projector a pozerali sme na stene ceske filmy. Potom sme sa hrali Clovece Nezlob Se a ani sme nezbadali ako vonku prebiehala jedna z najvacsich burok (thunder storm) tohto leta. Bolo super a citili sme sa ako doma, akoby sme boli s rodinouo.
3. Kolik Cechu a kolik Slovaku? Jeste si rozumite
?
A: Je nas 13 Slovakov a 9 Cechov, ale nie vsetci sa pravidelne stretavame, niektori sme v kontakte len cez akcie (parties v NYC co poriada SlovakInfo.com) a niektori maju cas len zavolat alebo cez email zatial (niektori robia cez vikendy alebo maju male deti).
'Rozumime' si super. Slovaci sa doucaju Ceske slova (ako mesiace – Leden, Unor… a uz vieme ze brambory su zemiaky a miminko je babatko a tak.. :))

4. Co se ti na tom vasem spolku nejvic libi?
A1: Ze ked sme vsetci tak daleko od domova, vieme si navzajom pomoct a citime sa ako 'extended family'.
A2: pocit spolupatricnosti (kde si ku podivu este stale rozumieme;-) aj napriek velkej roznorodosti v osobnostnych crtach, nazoroch, veku…Asi je to tym ze sa snazime robit a zameriavat viac na to co nas spaja nez na to co nas rozdeluje a kazdy je ochotny dat nieco zo seba nie len prijimat…..
A3: Najlepsie je na nasom klube to, ze sa citim ako doma. So vsetkymi sme ako jedna velka rodina. A to je pocit nanezaplatenie.

5. (cokoliv, co bys chtela rada dodat…)
A: Vytvorili sme si aj stranku na Yahoo Groups : http://groups.yahoo.com/group/CeskoslovenskyKlub
If you liked this post buy me a coffee! (Suggested:$3 a latte $8 for a pound) Thanks!