I was born in Prague where I worked the potato fields until I was almost 19 years old. Then I moved to the US where I live now. The End.
Just kidding! Let me be a little more specific about my life. The trouble with me is that I have both sides of my brain working so that means that I have always liked math as well as drawing (see some of my doodlings here) and music. So, when someone would ask me:"What do you want to be when you grow up?" I wouldn't know what to say! Well, first I wanted to be – as the 98% of all the other girls – an actress. I did try out for the University of Acting in Prague but didn't make it to the last round. So, after some soul searching, I decided to try out for the University of Business. After all, my mother always wanted me to be a diplomat (!!), so why not? As I was waiting for the exam results my father's American friend (let's call him Mac) came to visit us. The summer before Mac's visit I worked as an Au pair in England to improve my English skills for the upcoming high school final exams (I guess here the equivalent of that would be the SATs). Because of this nannying experience I was able to communicate with Mac very well. One day all of us were went for a walk around town and Mac made me an offer. He said if I tried out for a scholarship at their local college I could live with his family for free. The thought of me going to AMERICA was just insane! First of all, my dream was to go to Italy (!) and second, America was so far! But I did apply for the scholarship and low-and-behold – I got it! By that time I also found out I was accepted to the University of Business as well.What to do?? After some time of thinking everything over I decided I would go to the US just for a year – to master my English skills.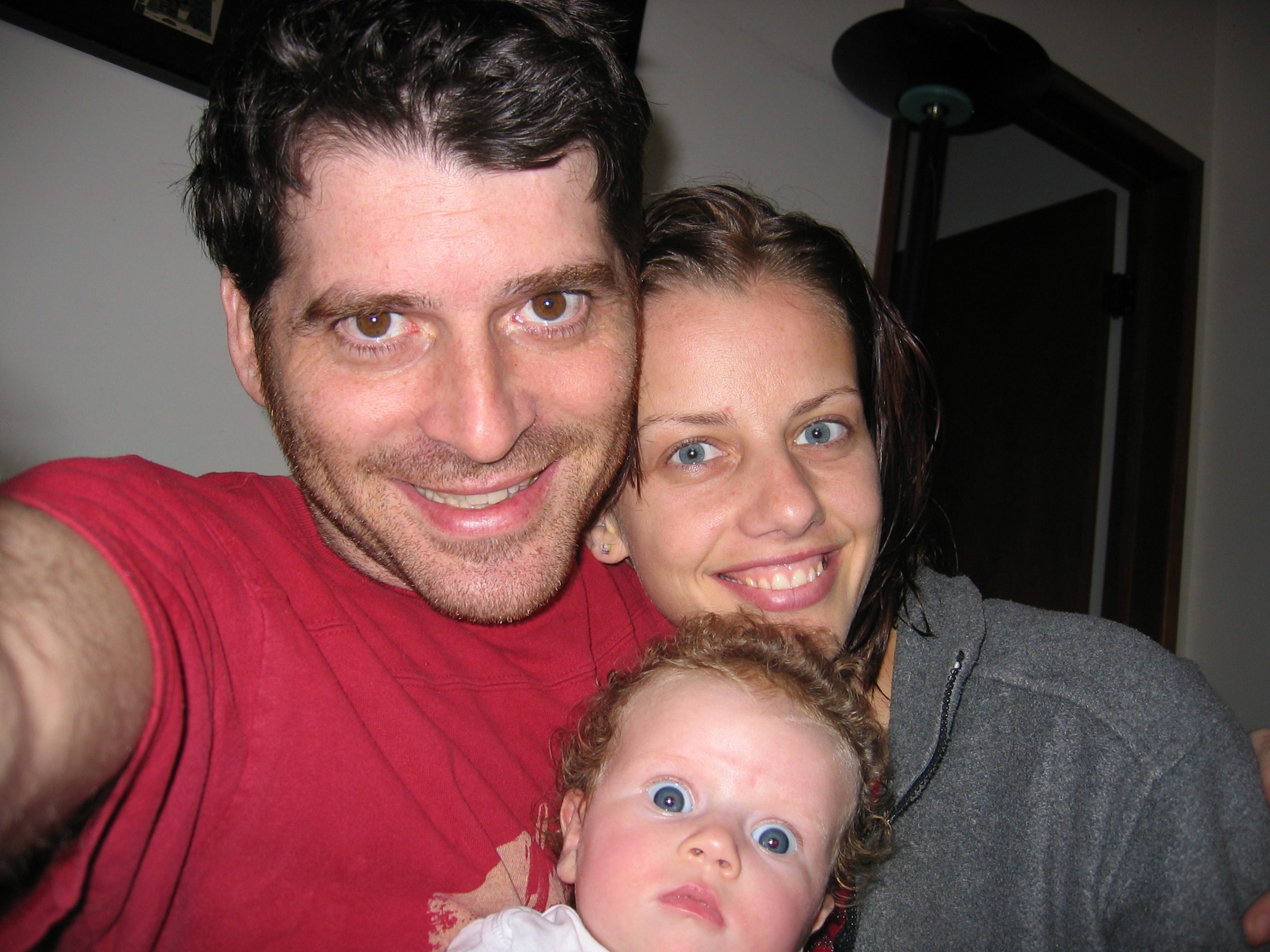 Right before I left I had a couple of "star" moments: I was a one-day tour guide to a famous European DJ Paul Van Dyk when he performed in Prague and played a part in a Japanese TV show!! The tour guide experience was a success but the Japanese show totally flopped. But since it was shot in Prague I got to fly back home for couple of weeks for free. Anyhow, once I started school in the US – guess what – I began to like it here and stayed for 2 more years until my scholarship was over, transfered to a local University and – after changing my degree about 5 times – I finally graduated with a degree in Biology. During these school years I had also met my wonderful husband in one of my GE classes, married him and now we have a beautiful baby girl ! Simply a fairytale come true…even Popelka* would be jealous!
Although I love America I am proud of my Czech heritage (as well as my Slovak heritage since my grandpa was Slovak) and do miss the Czech culture. That is why ever since the beginning of my stay in the US I would always try to find some Czechs or Slovaks in my neighborhood. The International Club at my school seemed to have all nationalities but Czech. After months of searching I finally sniffed out this local Czech guitarist player who told me that him and other local Czechs met once a month and that I should come. I became really excited and when the time came I headed for the Czech meet up. When I got to the restaurant I looked around but didn't see any Czech-looking group. The only gathering I saw was this table with a bunch of old and grumpy-looking guys who were sitting in a complete silence, each staring at the big jug of bear sitting in front of them. I thought to myself: "that couldn't be the Czech group I am looking for!". So I asked the hostess and she, indeed, pointed to that particular table. Without giving it another thought, I then proceeded to turn around and drove back home. That was my first "Czech community" experience. Throughout the years I met some other Czechs/Slovaks but they would either have the "everything-sucks" attitude (which would make me feel depressed) or they were just visiting and went back home after a while. I also tried to look for some Czech info on the internet. Most of the Czech-American websites I found were just….let us say…unsatisfying. Even the "Current Events" page listed at the Embassy of the Czech Republic website were 2 years old for Heaven's Sake!
This whole bitter-sweet journey of trying to connect with other fellow Czechs made me wonder: " There must be an easier way for us to find each other". That is how I started to think toward the Czechmate diary direction. I just didn't know where to start. I knew I wanted to write a series of short stories someday that would describe some of the things I had to face while getting used to a completely new culture. One day my husband suggested that I start a blog about all this. And I said: "What's a blog?" After a few months of frustrating as well as rewarding experiences of finding out what blogging was all about I finally arrived: I created my own blog where the content is exactly what I have been looking for all these years! And it works out great because it allows me not only to connect with other Czechs and Slovaks in the US (and abroad), but it also motivates me to research things from Czech culture and history that I have always been interested in. That is how I stay in touch with my Czech heritage and it makes me feel fulfilled. The satisfaction also comes from the fact that lot of my viewers are also 2nd and 3rd generation Czechs living abroad who do not speak the actual Czech language anymore (fluently anyway) but are very interested in Czech culture. These people want to connect with the Czech culture as much as the "regular" Czechs and Czechmate diary allows them to do that.
* Popelka = Czech-style Cinderella
If you liked this post buy me a coffee! (Suggested:$3 a latte $8 for a pound) Thanks!